Latest in Construction Equipment
New automated E'gv Compact vehicle from Egemin
03/31/2015 04:42:11 pm
The specialised manufacturer in automated supply chain launch its new compact AGV.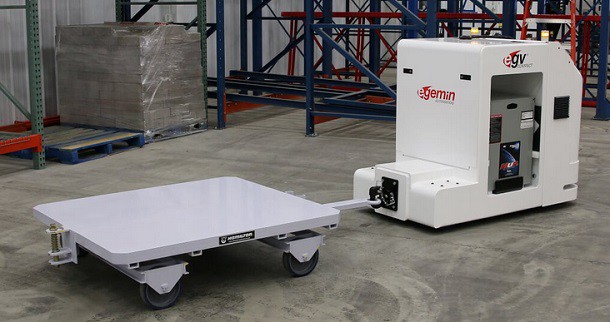 Egemin Automation launch its new automated E'gv Compact vehicle at ProMat 2015, dedicated to innovations in the supply chain, which took place in Chicago from March 23rd to 26th, 2015.
A compact but efficient AGV
What is an AGV ?
AGV vehicles are autonomous devices that are able to handle operations without human presence. These automatic vehicle guidance can hold, transport and drop off products in warehouses safely.
This new Egemin vehicle is a more compact, robust and efficient AGV (automatic guided vehicle) than the previous versions. Its towing capacity goes up to 4.5 tonnes, five times more than a standard vehicles.
Moreover, the E'gv Compact vehicle easily adapts to the logistic services needs. It can be used for towing, conveying or handling operations (by adding lift arms).
A vehicle with a best value for money principle
E'gv Compact Egemin is a standardized product that will be sold at an attractive price and quicker than automated personalised vehicles. As a result, this compact vehicle is an investment that can quickly be profitable.
The E'gv Compact as a tugger vehicle will be available in Europe this summer. The forked version will be launched in 2016.