Manitou : Used handling material from Manitou
Dealerships, Distributors, Traders & Sellers Manitou
Abrantes Almeida e Simoes Lda

9 ads

PFEIFER HEAVY MACHINERY BV

8 ads

Loutz Chariots Elevateurs

5 ads

Termáquina II – Bombas e Equipamentos , Lda

5 ads

COMERCIAL CEMA S.L.

5 ads

August Bruns Landmaschinen GmbH

3 ads

SANDOKAN, UNIPESSOAL LDA

3 ads

LEEIJEN TRADING B.V.

2 ads

MAQUIDONAS - Comércio de Veículos Pesados e Ligeiros, Lda.

2 ads

GEST LEASE INGENIERIE

2 ads

Valdemar & Filhos, Lda.

2 ads

Auto Transportadora Moderna Portuense SA

2 ads

Olkop Hurtownia Olejów i Paliw Gabriel Kropkowski

2 ads

Frank Richter Nutzfahrzeuge

1 ad

Simex Baumaschinenhandel GmbH

1 ad

O.B.M. Baumaschinen-Gabelstapler Handels- und Vermietungs GmbH

1 ad

SARL Andréoni et fils

1 ad

Stand Auto Gois Comercio de Automoveis LDA

1 ad

GUAINVILLE INTERNATIONAL

1 ad

CIE INTERNATIONAL SARL

1 ad

BAZA MASZYNOWA DANEX D.KRAJEWSKI J.SIWIK SJ.

1 ad

REBO Landmaschinen GmbH

1 ad

Alnebal Trading Uni, Lda

1 ad

Talleres Dozer 2000 SL

1 ad

Safi Dorani GmbH -D.S. Nutzfahrzeughandel

1 ad

CLAAS AGRICOLTURA SRL

1 ad
---
The head office of Manitou is located in the French city of Ancenis in the Loire region.
The activity of the French company is circled around three main pillars: the design, the montage and the distribution of its products of agriculture, industry and construction.
In 2014, Manitou decided to restructure its activities and created three divisions: the first one is « Material Handling & Access (MHA) » which focuses on the brand's production of forklift equipment (telescopic handlers, order pickers, pallet trucks, stackers).
The company also creates construction equipment under the supervision of its second division, « Compact Equipement ». Last but not least, its third division, the « S&S » (Services and Solutions) is in charge of all its after-sales services as well as the commercialization of the brand's truck parts.
Manitou has become one of the greatest producers of construction and forklift equipment. You may consult the advertisements related to the brand on Europe-Construction-Equipment.com.
Latest ads published
Manitou Non spécifié MS 30D used diesel forklift
FRANCE -

Yvelines

- Limay
13
Manitou MLT 735 - 120 MLT735-120 telescopic handler damaged
FRANCE -

Bas-Rhin

- Illkirch
3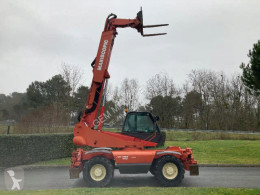 Manitou MRT1850 telescopic handler used
FRANCE -

Gironde

- Langon
2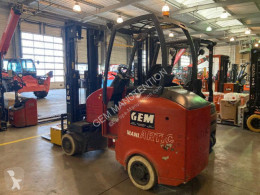 Manitou EMA18 used electric forklift
FRANCE -

Gironde

- Langon
2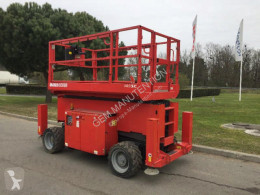 Manitou 140SC used self-propelled
FRANCE -

Gironde

- Langon
3
Manitou TMT315SIFL lorry mounted forklift used
FRANCE -

Gironde

- Langon
2
Manitou MCE 20 HZ used diesel forklift
FRANCE -

Gironde

- Langon
3
Manitou MI35D used diesel forklift
FRANCE -

Gironde

- Langon
Abrantes Almeida e Simoes Lda

9 ads

PFEIFER HEAVY MACHINERY BV

8 ads

Loutz Chariots Elevateurs

5 ads

Termáquina II – Bombas e Equipamentos , Lda

5 ads

COMERCIAL CEMA S.L.

5 ads

August Bruns Landmaschinen GmbH

3 ads

SANDOKAN, UNIPESSOAL LDA

3 ads

LEEIJEN TRADING B.V.

2 ads

MAQUIDONAS - Comércio de Veículos Pesados e Ligeiros, Lda.

2 ads

GEST LEASE INGENIERIE

2 ads

Valdemar & Filhos, Lda.

2 ads

Auto Transportadora Moderna Portuense SA

2 ads

Olkop Hurtownia Olejów i Paliw Gabriel Kropkowski

2 ads

Frank Richter Nutzfahrzeuge

1 ad

Simex Baumaschinenhandel GmbH

1 ad

O.B.M. Baumaschinen-Gabelstapler Handels- und Vermietungs GmbH

1 ad

SARL Andréoni et fils

1 ad

Stand Auto Gois Comercio de Automoveis LDA

1 ad

GUAINVILLE INTERNATIONAL

1 ad

CIE INTERNATIONAL SARL

1 ad

BAZA MASZYNOWA DANEX D.KRAJEWSKI J.SIWIK SJ.

1 ad

REBO Landmaschinen GmbH

1 ad

Alnebal Trading Uni, Lda

1 ad

Talleres Dozer 2000 SL

1 ad

Safi Dorani GmbH -D.S. Nutzfahrzeughandel

1 ad

CLAAS AGRICOLTURA SRL

1 ad

MAQUINARIA GONZALVO,S.L.

0 ad

ALMACAR SYSTEMS S.L.

0 ad

MANITOU GLOBAL SERVICES

0 ad