Linde : Used handling material from Linde
Dealerships, Distributors, Traders & Sellers Linde
GRUMA Nutzfahrzeuge GmbH

726 ads

Activacions carretillas, S.L

29 ads

Loutz Chariots Elevateurs

23 ads

MARINO CARRELLI ELEVATORI

11 ads

EDDY MOERMANS HANDELSONDERNEMING BV

5 ads

Salzgitter EuroLogistik GmbH

5 ads

Hinrichs Flurfördergeräte GmbH & Co. KG

3 ads

HANDELSONDERNEMING VAN J.D. VAN PIJKEREN

3 ads

Golec Nutzfahrzeuge GmbH

2 ads

Bosch Baumaschinen GmbH

2 ads

ALMACAR SYSTEMS S.L.

2 ads

EDDIE DÜCKER TRUCKS AND PARTS

2 ads

SANDOKAN, UNIPESSOAL LDA

2 ads

STRIMAK Baumaschinen & Kfz GmbH

1 ad

TRUCKCENTER APELDOORN BV

1 ad

HOLLAND TRADING TRANSPORT & REPAIR BV

1 ad

MANAIN ELEVACIÓ S.L.U

1 ad

Talleres Dozer 2000 SL

1 ad
---
The Linde brand belongs to the Linde Material Handling company of Germany.
Linde is present in more than 100 countries and owns factories in Germany, France, the Tzech Republic, the United States and China.
Linde produces a selection of diesel and electric telescopic handlers, storage handlers and pedestrian pallet trucks.
Through its cutting-edge technology, the company also offers innovative solutions worldwide, such as fleet management softwares, driver assistance systems and a whole range of services regarding telescopic handlers.
With the aim of meeting the requirements of its customers to the largest possible extent, Linde distributes 80 models of handlers and not less than 9000 types of equipment.
On our websites, you can find the following of Lind's forklift products: electric telescopic handlers, diesel telescopic handlers, gas-fuelled telescopic handlers, reach trucks, pedestrian pallet trucks, stand-on pallet trucks, medium-level order pickers (2,5 - 6m), low-level order pickers (< 2,5m), stand-on stackers, pedestrian stackers, sit-on stackers, forklift masts, etc.
Latest ads published
Linde E20PH-01 used electric forklift
FRANCE -

Indre-et-Loire

- Villedômer
5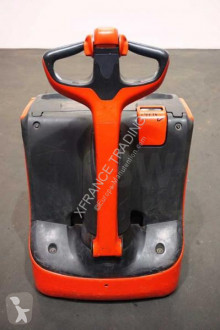 Linde T 16 360 74146 pallet truck used pedestrian
FRANCE -

Indre-et-Loire

- Villedômer
6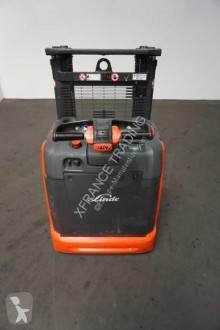 Linde L 12 stacker used pedestrian
FRANCE -

Indre-et-Loire

- Villedômer
4
Linde T20 SP 74454 pallet truck used
FRANCE -

Indre-et-Loire

- Villedômer
3
Linde R-14 reach truck used
4
Linde D12SP stacker used
NETHERLANDS - Raamsdonkveer

5
Linde T20 pallet truck used pedestrian
NETHERLANDS - Raamsdonkveer

6
Linde P30 handling tractor used
NETHERLANDS - Raamsdonkveer

Jungbluth Fördertechnik GmbH & Co. KG

0 ad
GRUMA Nutzfahrzeuge GmbH

726 ads

Activacions carretillas, S.L

29 ads

Loutz Chariots Elevateurs

23 ads

MARINO CARRELLI ELEVATORI

11 ads

EDDY MOERMANS HANDELSONDERNEMING BV

5 ads

Salzgitter EuroLogistik GmbH

5 ads

Hinrichs Flurfördergeräte GmbH & Co. KG

3 ads

HANDELSONDERNEMING VAN J.D. VAN PIJKEREN

3 ads

Golec Nutzfahrzeuge GmbH

2 ads

Bosch Baumaschinen GmbH

2 ads

ALMACAR SYSTEMS S.L.

2 ads

EDDIE DÜCKER TRUCKS AND PARTS

2 ads

SANDOKAN, UNIPESSOAL LDA

2 ads

STRIMAK Baumaschinen & Kfz GmbH

1 ad

TRUCKCENTER APELDOORN BV

1 ad

HOLLAND TRADING TRANSPORT & REPAIR BV

1 ad

MANAIN ELEVACIÓ S.L.U

1 ad

Talleres Dozer 2000 SL

1 ad