Hyster : Used handling material from Hyster
Dealerships, Distributors, Traders & Sellers Hyster
GRUMA Nutzfahrzeuge GmbH

15 ads

ILE DE FRANCE MANUTENTION

4 ads

Norgatec Handelsgesellschaft mbh

3 ads

Hinrichs Flurfördergeräte GmbH & Co. KG

2 ads

HANDELSONDERNEMING VAN J.D. VAN PIJKEREN

2 ads

Loutz Chariots Elevateurs

2 ads

PFEIFER HEAVY MACHINERY BV

2 ads

DEGROOTE TRUCKS & TRAILERS

1 ad

EDDY MOERMANS HANDELSONDERNEMING BV

1 ad

Las Colinas Cranes and Parts S.L.

1 ad

GERL Baumaschinenhandel GmbH

1 ad

H ET S NUTZFAHRZEUGE

1 ad

UEG Universal Equipment GmbH

1 ad

Tranalem Europa S.L.

1 ad

Baumaschinen Puntigam GmbH

1 ad

Landtechnik Stephan Kersting

1 ad

OTTEN MACHINES GENNEP

1 ad
---
Hyster began its activity in the 1920s in tree-cutting, in the North-West of the United states. The company's name takes after an expression which was used between workers to signal that a log could be removed, originally written as «Hoist'er !».
The group produced its first telescopic handler in 1934. Straight from its beginnings, the company has specialised in the production of telescopic handlers applicable on difficult terrain, for example, a machine of 2700 kg capacity used in the construction industry.
Its first handler series with inflatable tires, called Jumbo was released in 1942. The vehicle's capacity is 6800 kg.
Today, Hyster is a reference brand in the production of telescopic handlers suitable for difficult terrain, for, among other purposes: the handling of containers, wood, paper, metal, beverages, construction material, etc.
You can find all available products of Hyster on our websites: diesel telescopic handlers, gas fuelled telescopic handlers, electric telescopic handlers, heavy duty forklift, container handling heavy forklift, reach stackers, stand-on pallet trucks, pedestrian stackers, etc.
Latest ads published
Hyster H4.0FT-5 H4.0FT5 used gas forklift
2008
8200 hours
6.87 tonnes
FRANCE -

Meurthe-et-Moselle

- Azerailles
10
Hyster A1.50XL Forklift used

3
Hyster H3.5FT used gas forklift
2011
12276 hours
5.26 tonnes
FRANCE -

Val-d'Oise

- Goussainville Cedex
ILE DE FRANCE MANUTENTION
9
Hyster H3.5FT Forklift used

6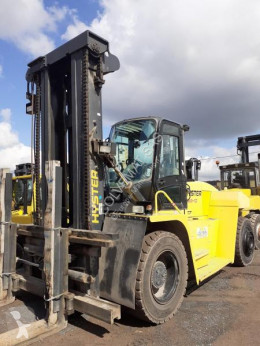 Hyster H16.00XM-12 used diesel forklift
2007
5950 hours
26 tonnes
FRANCE -

Meurthe-et-Moselle

- Azerailles
3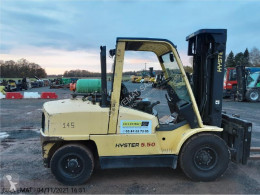 Hyster H5.5XM used gas forklift
2006
9400 hours
8.48 tonnes
FRANCE -

Meurthe-et-Moselle

- Azerailles
4
Hyster H2.0XT used gas forklift
NETHERLANDS - Raamsdonkveer

4
Hyster P2.5 pallet truck used pedestrian
NETHERLANDS - Raamsdonkveer

GRUMA Nutzfahrzeuge GmbH

15 ads

ILE DE FRANCE MANUTENTION

4 ads

Norgatec Handelsgesellschaft mbh

3 ads

Hinrichs Flurfördergeräte GmbH & Co. KG

2 ads

HANDELSONDERNEMING VAN J.D. VAN PIJKEREN

2 ads

Loutz Chariots Elevateurs

2 ads

PFEIFER HEAVY MACHINERY BV

2 ads

DEGROOTE TRUCKS & TRAILERS

1 ad

EDDY MOERMANS HANDELSONDERNEMING BV

1 ad

Las Colinas Cranes and Parts S.L.

1 ad

GERL Baumaschinenhandel GmbH

1 ad

H ET S NUTZFAHRZEUGE

1 ad

UEG Universal Equipment GmbH

1 ad

Tranalem Europa S.L.

1 ad

Baumaschinen Puntigam GmbH

1 ad

Landtechnik Stephan Kersting

1 ad

OTTEN MACHINES GENNEP

1 ad