Characteristics - Used Dragon Machinery reach truck TFB20-30 4-Direction Electric Reach Truck
Reach truck
Main information
Website ref. :
955662
Bodywork
--
Make

Dragon Machinery

Model
TFB20-30 4-Direction Electric Reach Truck
Condition
used
Year
01/01/2019
Additional information Dragon Machinery TFB20-30...
Height
-
Center of gravity of the weight
-
Free lift
-
Length of the forks
-
Serial number
-
Characteristics Dragon Machinery TFB20-30 4-D...
Energy
-
Lifting height
-
Maximum lifting capacity
2 Tonnes
Number of hours
-
Tyres
Front tyres wear
-
Rear tyres wear
-
Front tyres dimension
-
Rear tyres dimension
-
Type of tyre
-
Condition and dimension of tyres
-
Equipment Dragon Machinery reach truck
Characteristics Dragon Machinery TFB20-30 4-D...
Mast type
-
Notes
4-direction electric rider reach truck, narrow aisle 4-direction electric reach truck, 4-way electric reach truck, 4-way electric rider reach truck, electric rider operated four-direction reach truck, four-direction electric stand-on reach truck, electric four-way reach truck, battery four-way reach truck, 4-way battery powered reach truck, 4-directional electric straddle reach truck, electric operated 4-directional reach truck, rider electric 4-directional reach truck, electric 4-directional reach truck, powered 4-direction reach truck, 4-direction powered reach truck, 4-direction electric reach stacker, 4-directional battery reach stacker

Rated Load: 1.5T - 2.5T
Lifting Height: 3.0m - 7.2m
Overall Length: 2354 - 2482mm
Overall Width: 1514 - 1682mm
Fork Size: 1070 x 100mm

Applications:
4-direction Electric Reach Truck or electric 4-way reach truck belongs to industrial handling truck and is a kind of warehouse forklift truck; it is applicable to loading/unloading, stacking and short-distance transportation of palletized goods especially in narrow aisle or spaces, and it is perfect for a wide range of applications. Electric 4-way rider Reach Trucks are versatile and highly maneuverable. A narrow aisle electric 4-directional reach truck helps operators to put pallets away at height in narrow aisles. Suitable for heavy-duty applications, our multidirectional reach truck is capable of handling both conventional pallets and long loads, such as steel beams and plastic pipes.

Features:
1. 4-direction reach truck with 4 direction changing and moving;
2. AC Driving system, hydraulic steering;
3. Maximized Storage Capacities;
4. Reduced handling times;
5. Reduced costs;
6. Less damage to product or property.

Technical Specifications:
Power Type: Electric
Operation Type: Stand-on
Rated Load Capacity: 2000kg
Load Center: 500mm
Wheel (Tyre) Type: Polyurethane Solid Tyre
Rear (Driving) Wheel: Φ380×165mm
Auxiliary (Balance) Wheel: Φ204×76mm
Front (Load) Wheel: Φ267×114mm
Number of Wheels, F/R/Aux. (X=Driving): 2 / 1X / 2
Mast Tilt Angle (Forward/Backward): 3/5deg.
Max. Lifting Height: 3000mm
Free Lift: 100mm
Height of Mast Lowered: 2090mm
Height of Mast Extended (with Backrest): 3920mm
Height of Overhead Guard: 2320mm
Height from Platform to Overhead Guard: 1879mm
Min. Ground Clearance: 74mm
Overall Length (with Fork): 2482mm
Reach Travel: 685mm
Wheelbase: 1700mm
Front Overhang: 162mm
Overall Width: 1688mm
Front/Rear Wheel Tread: 1378/726mm
Fork Dimensions (L*W*T): 1070*100*45mm
Fork Spread: 247~780mm
Aisle Width with 1000*800 pallet along Forks: 3037mm
Aisle Width with 1000*1200 pallet across Forks: 3037mm
Min. Turning Radius: 1979mm
Max. Travel Speed (Full-load/No-load): 7.8/9.0km/h
Lifting Speed (Full-load/No-load): 110/243mm/s
Max. Gradeability (Full-load/No-load): ≤10%
Drive Motor: 5.5kW (AC)
Lift Motor: 7.5kW (DC)
Battery: 48V/400Ah
Intelligent Charger: 48V/40A
Battery Weight: 650kg
Service Weight (with Battery): 2960kg
Type of Steering: Hydraulic
Service Brake: Electromagnetic
Parking Brake: Electromagnetic


Note: 1. Technical specifications are for standard models only.
2. Other optional accessories, functions and requirements are available upon request.
3. All specifications and design characteristics are subject to change without prior notice.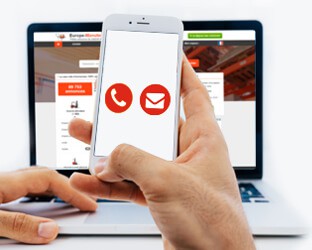 You are interested in this vehicle ?
Don't wait any longer, get in touch with the company Qingdao Promising International Co.,Ltd to know more right now !